VIDA is returning as the official Women's Hub of the fourth annual Sedona MTB Festival, March 6-8, 2020. VIDA will host a variety of activities throughout the weekend to bring all women at the festival together, including tech talks, demos, yoga and group rides on Friday afternoon and Sunday morning.
The VIDA clinic on Saturday, March 7, will begin at Posse Grounds Park in the new City of Sedona Bike Skills Park. In the afternoon, groups will explore the incredible network of singletrack that leave straight from the heart of the festival headquarters. Our one-day clinic format will allow festival attendees the opportunity to gain skills and confidence with a coach on Saturday, and shred singletrack with their friends and family on Friday and Sunday. With over 200 miles of world class trails, there are options for all group levels. The clinic will be limited to 45 participants. Sign up now, as we consistently sell out!
Sedona is famous for more than than transcendental experiences, it also happens to be an up-and-coming riding mecca. Located at 4,500 feet above sea level adjacent to the Mogollon Rim, Sedona's red rock makes for unparalleled scenery. The riding is accessible, technical, and fun; there is terrain to suit all abilities and opportunities to push your limits. There's something for everyone thanks to a recent expansion of the already extensive trail system covering the surrounding Coconino National Forest.
LODGING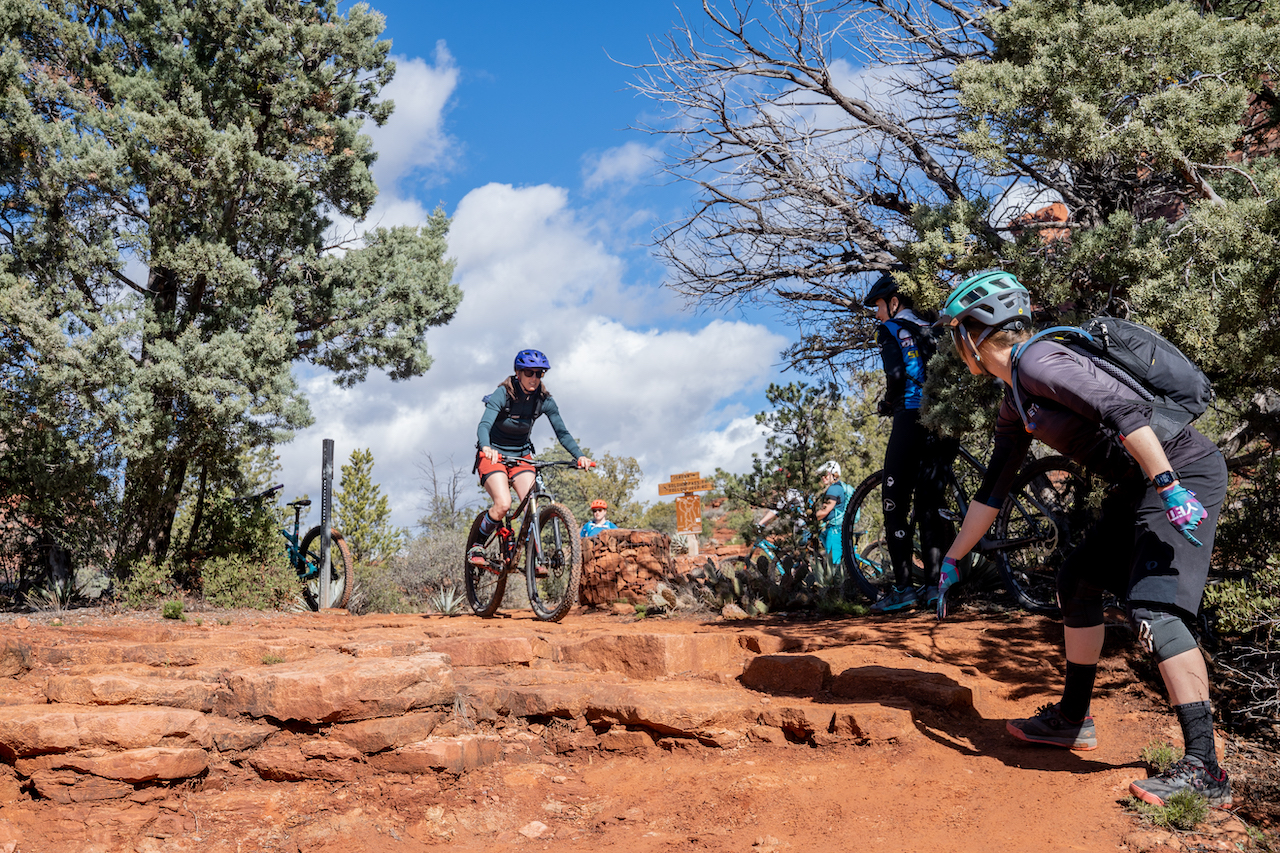 Sedona offers diverse lodging options, from top tier hotels to local camping spots. The festival offers featured hotel options that also serve as shuttle stops to and from the venue. There is also event camping at the Chavez Campgrounds (separate registration) and other local camping options. For additional information, including booking details, visit the Sedona MTB Festival website at www.sedonamtbfestival.com.
Sedona MTB Festival Pass
All VIDA MTB Series clinic participants will receive 50% off of their Sedona MTB Festival pass. Participants will be emailed a unique code after registration that they may use to register for any pass option. You do not need a festival pass to take the clinic, though you will need a festival pass to demo bikes or board the shuttles. Please note that this pass is for clinic participant use only - no friends, partners, husbands, kids, college roommates, dog sitters, etc. The festival is not offering this discount for any other group and if it is abused will cancel all festival pass registrations. Let's keep our event partner happy and play by the rules.
You must register for the VIDA clinic before purchasing a festival pass. Sorry, but we are not able to offer refunds on a festival pass if you purchase it before registering with VIDA.
Join us at the VIDA MTB Series tent for early clinic check-in, meet n' greet with the coaches, and general fun from 4 to 6 p.m. on Friday, March 6 in the main expo area, next to registration at Posse Grounds Park. Yeti Cycles will present a tech clinic sponsored by Ska Brewing at 5 p.m. This is a great option to get your bike dialed in preparation for the clinic.

This is optional, so if you can't make it, you can check in on Saturday morning from 9-9:30 a.m. You will check in at the Festival HQ tent for your festival pass, and then head over to the VIDA tent for clinic check-in.
Have more Questions? Give us a shout!